With the academic term coming to a close, one of our graduating YA Bloggers has a few fond farewells to share with campus.
Good-bye Rutherford Library,
Thank-you for providing me with the many resources I needed to successfully complete each and every semester. You're new chairs are pretty great, too.
Good-bye HUB,
Thank you for teaching me patience and the importance of deep breathing in the midst of so many slow walkers.
Good-bye Department of Women's and Gender Studies,
Photo credit: http://www.wgs.ualberta.ca/en/FacultyandStaff.aspx
Thank-you for accepting me for exactly who I happened to be that day, for teaching me how to think critically, ask important questions, and to live in a way that fosters the growth of all people and share in the celebration of inclusion and diversity.
Good-bye Dewey's,
Thank-you for all of the cheap beer, loud conversations, weekday hangovers and truly happy hours.
Good-bye University of Alberta International,
Thank-you for believing in my potential and allowing me to grow, learn, and support myself as a young professional.
Good-bye University of Alberta Alumni Association,
Photo credit: https://alumni.ualberta.ca/connect/future-alumni/scholarships
Thank-you for your generous scholarship in a time when I did not know whether or not I would be able to afford the next semester.
Good-bye Dr. Odile Cisneros,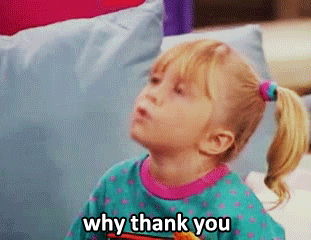 Image courtesy of giphy.com
Thank-you for demonstrating what hard work & dedication really looks like and thank-you for instilling in me a passion for a language I did not once imagine I would ever learn prior to entering university.

Good-bye extended family,
Thank-you for taking such good care of me--especially during the times when I could barely take care of myself--I know I can always count on you. I love you more than I can find the words.
Good-bye first friends,
Thank-you for being some of the first familiar faces in a sea of busy bodies and confusing classes. Though we may not keep in touch regularly, I couldn't have gotten through year one without you.
Good-bye forever friends (but really, this is a see you later),
Image courtesy of rebloggy.com
Thank you for your unwavering support as we navigated our way through the trials and tribulations that is university and young adulthood. We laughed, we cried, we failed, we tried. Together, we made it!
Good-bye, University of Alberta.
Thank-you. It is because of you that I am able to walk into a new world with my head held high and pursue my dreams. I may have a way to go, but I can't wait to get started.
Jobey is in her fifth and final year studying Spanish Language and Literature & Women's and Gender Studies. She gets most of her inspiration from Vines & YouTube videos and over enthusiastically quotes them any chance she gets. When Jobey is not spending her days and nights in Rutherford Library, she can be heard from miles away "trying" to whisper. She really can't whisper. Like, not even a little bit.